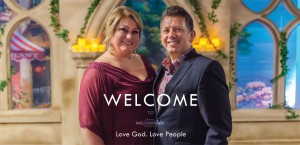 Viktor and Olga Muzichuk are the head pastors of My City Church (MC Church) in Sacramento, CA, which was founded on October 28th, 2000 as a Melchizedek Church
On May 8th, 2002, Melchizedek Church accepted the vision: "Evangelism through discipleship and structure of G-12". This change became the source of growth in the church. The influence of the vision is increasing with-in the United States, as well as beyond the border.
Pastors' ministry and sermons convey revelations, victorious spirit and bring encouragement to everyone. Their dedication and sacrificial nature confirm their teachings. In addition, they bring hope to many individuals through communicating a father's love, as well as leaders and churches by influencing their spiritual growth in ministry.
MC Church makes an emphasis on:
Consistency in personal relationship with God
Mutual understanding and unity among leaders and pastors of the church
Developing and utilizing gifts and talents in the Body of Jesus Christ (Church)
Priesthood family
Formation of character; pure heart and holiness in life
Enrichment in spiritual, intellectual, emotional, physical and social development
Goal oriented life
Commitment to calling (discipleship)