Sveta Marchuk,
12 Feb 2016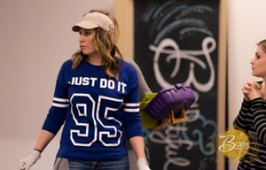 Every year before the Ladies Conference a great deal of construction and design work is underway to refine and transform the interior of the church. A team of church volunteers led by talented and experienced designers carry out plans and project ideas that please the eye and heart. The Conference is one month away, and preparation work gathers pace.
It seems like a small European town is being built inside the building of Melchizedek Church. Every detail is well thought out, calculated and put into place:
The initial work plan was proposed to experienced construction volunteers on Saturday, February 13, and was carried out without a hitch.
New walls, arches and columns have been erected. There is still a lot to be done on stage. The walls, design and decorations require painstaking and detailed work followed by the final cleaning. Such amount of work needs planning and ideas but also helping hands to turn this into reality. We would like to thank everyone who volunteered! Your help and diligent work are greatly appreciated. Follow our progress and 
sign up for the Conference
.